| | |
| --- | --- |
| | The Groundwork Lawrence Green Team is a year-round program that offers part-time, paid positions for 40 Lawrence high school aged students each year to help learn about and lead local environmental and healthy community initiatives, grow food, conduct research, raise awareness, challenge their peers to do community service, and participate in hands-on improvement projects throughout the City of Lawrence. The program is intended to promote the protection and restoration of Lawrence's critical ecological systems, natural resources, and public health by engaging teens in advocacy and service-learning efforts focused on the community's parks, gardens, waterways, and vacant open spaces. The Green Team program has dual goals - to prepare Lawrence's youth for a lifetime of environmental and healthy community leadership, and to invest in our community's future and capacity to improve its physical environment. |
This year, school year Green Teams education and service, transcended beyond their normal scope of work. As a team, they collaborated with several groups outside of Groundwork Lawrence, to create a physical representation of Lawrence's outstanding resilience. Please click the link below to see and learn more.                                                      
Lawrence Made Pipe Project website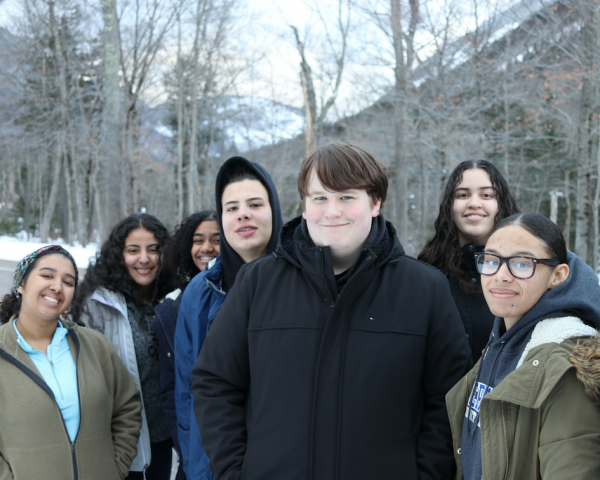 ---
School Year
This school year, Green Team will be focusing on Food and Environmental Justice. During the fall, Green Team continues summer projects by caring for our urban garden and working the Farmers Market. They assist in the planning and carrying out of GWL events including the Spicket River Clean-up, Greenway 5k, and Glow Gala. Green Team attends multiple food justice workshops and makes presentations on the topic. During the winter, Green Team attends in-house seminars on compost, soil, garden planning, and food justice in preparation for spring planting. This is also the time of the year when the most intensive youth development work happens. Spring Green Team gears up with Earth Day, opening and prepping gardens, park clean ups, and planning for summer. Public speaking, writing articles, making professional presentations, cleaning rivers, pulling weeds, enjoying time together, hiking and camping are all part of life on the Green Team. Green Team is a support system, a professional stepping stone, and a family.
---
Green Team News
 

Reflection from Groundwork USA Grand Tetons Youth Trip

My Experience going to the Grand Tetons National Park was amazing! Getting the chance to go to Yellowstone, work with the western center for historic preservation on cabin restoration, and meet fellow green team members from Milwaukee and Denver was remarkable. I didn't expect to see so much wildlife up close. I will never forget my first American bison. Something I will never forget is stargazing during our nights. I have never seen the beauty of our galaxy like I did in the Grand Tetons National Park. If I got the chance to do something like this again, I would do it in a heart beat. Overall, I would never trade this experience for anything. - Litzie 

 

 

Wilkins Lugo has set a precedent at Groundwork Lawrence for a new career pipeline at the organization. The 23-year-old AmeriCorps VISTA member at Groundwork Lawrence has had a long history with the non-profit before his induction into his current role. He is a green team, and a Groundwork Somerville and Groundwork Lawrence Green Team crew leader, alum. He has advanced his role as a VISTA member at the organization, a role no other Groundwork Lawrence Green Team alumni has done before. He knows that this will open the door for more youths to follow the novel pipeline, one that Wilkins is trying to keep extending!"

He is particularly looking forward to witnessing, and partaking in, the youth development of the Green Team members, and in fostering a zeal for the environment and its related STEM in all of those involved. He is a major advocate of investing into those that have invested in you, and believes he can do just that with his term as a VISTA. He looks forward to the teaching of environmental lessons, conduction of professional development workshops, creating opportunities for leadership development, and a potential check-in farther down the line that one of the youths he worked with is continuing following his footsteps as a VISTA (or as a greater role). As a Lawrence citizen, he has seen how much Groundwork Lawrence has grown, and is excited to see how much Lawrence's youths can grow as a Groundwork Lawrence VISTA! - Wilkins

 

 

Jairo, 16, was first introduced to environmentalism through his biology teacher, Rebecca Veilleux. Jairo took the urban ecology class simply because he needed another credit, and the class seemed interesting. Jairo soon discovered that Ms. Veilleux had a lot of experience working on urban ecology projects as she was also a Green Team Youth Leader for Groundwork Lawrence. The class gradually piqued his interest and he thoroughly enjoyed the field studies, especially to Nantucket Island. His teacher appreciated Jairo's enthusiasm and encouraged him to apply for Groundwork as she knew he would like the type of work the Trust was doing.
READ MORE

 

 

Jerver Abrego has learned to think like the land in the Merrimack Valley, appreciate its hidden splendor and harvest its possibilities for restoring lives. The 24-year-old program coordinator for Groundwork Lawrence carried this enthusiasm to Lawrence from Yellowstone National Park, where, for eight days in August, he and five other local young people cleared trails, painted picnic tables and toured natural wonders. The awe he felt standing in the national park, which covers almost 3,500 square miles, inspired him to envision what Lawrence's remaining open spaces might become. He imagined what the valley looked like before industrialization spawned a mill-dominated cityscape in the 19th century, and thought about its restored splendor in smaller spaces.
READ MORE

 
---
Yellowstone National Park
---
What's Happening with Green Team
| | |
| --- | --- |
| | This project was supported in part by the Massachusetts Cultural Council, which receives support from the state of Massachusetts and the National Endowment for the Arts. |