Urban Farm at Costello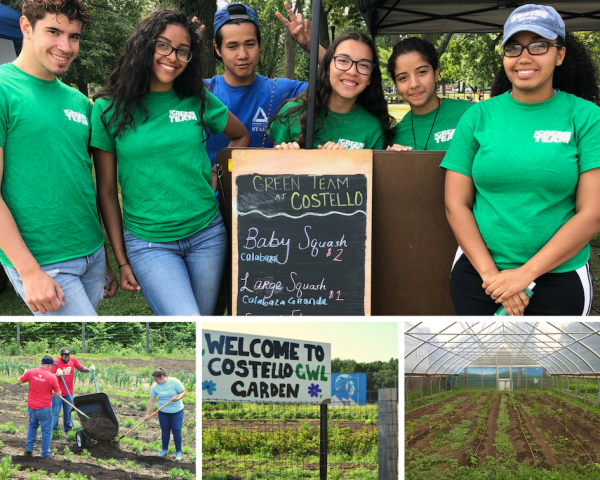 One of our newest food production projects is our Costello Urban Farm. The space, which is part of the Costello Community Garden, carves out 19,600 square feet of growing space for our Green Team members. Green Team (GT) is our year-round program that offers part-time, paid positions for 40 Lawrence high school aged students each year to help learn about and lead local environmental and healthy community initiatives, grow food, conduct research, raise awareness, challenge their peers to do community service, and participate in hands-on improvement projects throughout the City of Lawrence. GT engages in the planning, growing and harvesting of the Costello Urban Farm. This process fosters a relationship with food, the environment and their community while at the same time builds life skills including teamwork and leadership. Last year, GT's efforts yielded nearly 2,000 pounds of produce, three-quarters of which was donated to Bread and Roses Soup Kitchen in Lawrence. The remaining quarter was sold our Farmers Markets, proceeds going back into the program.
Expansion of the Farm
Through funding provided by the MA Department of Agricultural Resources, we've built a 27' x 48' New England high tunnel (unheated greenhouse), added a wash station, and expanded the growing space. We are excited to be able to increase the amount of food we can grow to sell at the Groundwork farmers markets, donate to Bread & Roses and share with our Green Team members' families.
Volunteer Hours 
The production at Costello is an amazing resource for the community and it is also a stellar volunteer opportunity! If you would like to be a part of the great work we do, or you just want to come out and get your hands dirty, let us know!
or Sign up today!
For more information please contact Eddie 
Twilight Tours
This spring we will be offering Twilight Tours! What is a Twilight Tour? It is a tour of our urban farm, followed by an opportunity to taste some of the fruits of our labor.
For more information please contact Eddie